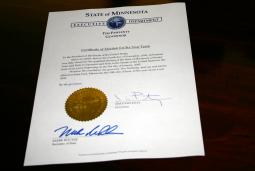 Minnesota's Senate race is now over.
Gov. Pawlenty and Secretary of State Mark Ritchie both signed the election certificate declaring Democrat Al Franken the winner in Minnesota's long-running U.S. Senate race. Pawlenty signed the document at 6:15. Ritchie signed it about twenty minutes ago.
Pawlenty's spokesman detailed the next step in the process:
"The certificate and cover letter will be faxed to the Secretary of the United State Senate this evening and the original will be sent overnight and hand-delivered to the Secretary of the United States Senate tomorrow."
Franken said earlier today that he thought he would be sworn in sometime next week.
A spokesman for Democratic Senate Majority Leader Harry Reid said Franken will be sworn in early next week.