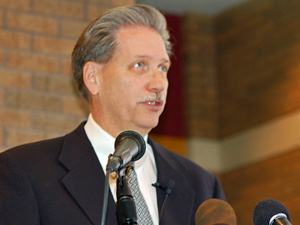 Edina Mayor Jim Hovland made his bid for Congress official this morning. Hovland is running for Congress in Minnesota's 3rd District as a DFLer. Hovland was once a Republican, but said he switched parties in September when asked if he would consider replacing Republican Congressman Jim Ramstad. Ramstad is not running for reelection.
Hovland says his top priorities are improving the economy, getting a handle on rising health care costs and improving the nation's transportation infrastructure. He says, like Ramstad, he'll be able to get voters of every political persuasion to support him.
Hovland says he intends to abide by the DFL party endorsement, but left the door open to running in a primary. State Sen. Terri Bonoff and Iraq war veteran Ashwin Madia are also running as Democrats. Republican State Rep. Erik Paulsen is expected to formally enter the race soon.
You can listen to Hovland's speech here.