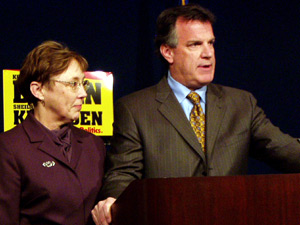 It's been rather interesting seeing some of the various political sites over the last few days breathless over the rumored end of the Kelly Doran campaign. By the time Doran unveiled his future plans today, it wasn't a secret any longer. And that's the kind of situation I love about politics. The guy gets to provide no suspense whatsoever in ending a candidacy that was an apparent secret to a whole lot of people in the first place.
And now I've performed the Campaign 2006 gubernatorial Web site ritual of removing him from the list of active candidates, and moving him to the honored list of withdrawn candidates, where Bud Philbook has been living a lonely existence for far too long.
Audio of Doran's announcement is here (RealPlayer required)
All that said, I found Doran to be a decent guy and I enjoyed meeting him when he came into MPR last summer to spend 45 minutes answering my questions for his page on the Campaign 2006 Web site (yeah, we actually start kinda early on the online side of things). He had a hard-working campaign communicator in Tonya Tennessen. His campaign manager, John Wodele, knows a little something about getting people elected. And he had a message. And he sure had the cash.
I remain fascinated by the question, however, of whether someone from the business world can actually be elected to a statewide office without becoming a career politician first — at least here.
If Doran's experience sours anyone with a message, money, and a good staff from running in the future, then I guess this really hasn't been a particularly good day for Minnesota politics.